Bountiful Chests are unique non-mergeable chests that can be earned by completing levels. Once a level is completed a bountiful chest will be added automatically to the bountiful chest menu, which can be accessed from the top left of the screen. After 3 Chests have been collected, no more chests can be earned before 1 of them is removed by unlocking, though would be offered to be bought with Dragon Gems. Only one chest can be unlocked at a given time, but the process can be finished at will by paying Dragon Gems. Once a bountiful chest has been unlocked, it can be transferred to Camp for opening.
There are 3 tiers of chests while the first one in available from the start, second when 200 tiles are healed on camp, and the third when 375 pieces of land are healed. The tier a player currently have cannot be changed backwards, once sufficient land have been healed, the tier will be changed for good.
Each tier has 3 types of chests - Bronze, Silver and Golden. Chests made of the richer metal have better prizes. Every level has a different chest type that can be earned by completing it.
Each chest has 2 variants, Normal and Large. Getting the latter is rarer, it takes more time to unlock and it has better loot. The loot of the chests also varies depending on where the chest was earned. The levels are divided into different sections, and each section gives different loot (Different Dragon Eggs and Objects).
3 Tiers x 3 Chest Color Types x 2 Size Variants = 18 Chest Types total while only 6 can be achieved on a given time.
Tier
Metal
Variant
Unlock Time(Hours)
Unlock Price(DG)
Eggs
Possible Loot (one or more of listed items)
1

(0-199

Land Healed)

Bronze
Normal
3
14
1
Large
8
?
?
?
Silver
Normal
6
28
2
Large
10
37
?
?
Golden
Normal
12
84
6
Large
24
?
?
?
2

(200-374

Land Healed)

Bronze
Normal
3
18
1
Large
8
47
1-3
Silver
Normal
6
35
2-3
Large
10
47
3
Golden
Normal
12
70
4-5
Large
24
105
5-8

.

3

(375+

Land Healed)

Bronze
Normal
3
21
1-2
Large
8
56
4
Silver
Normal
6
42
3
Large
10
56
4
Golden
Normal
12
84
6
Large
24
126
9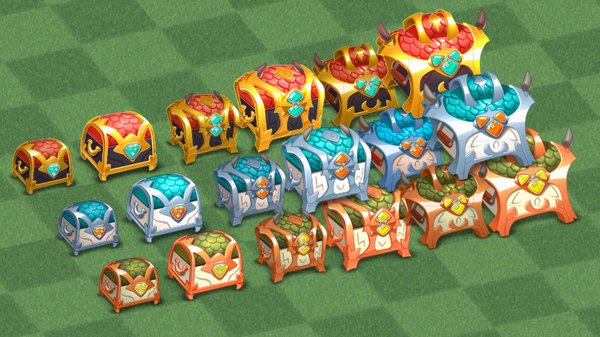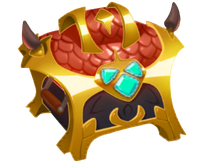 Tiers can be identified by the number of gems on the chests, while 1 gem represent tier 1, 2 gems tier 2 and 3 gems tier 3.
Community content is available under
CC-BY-SA
unless otherwise noted.