Summary
[
]

Camp Quests are extra goals that can be completed while at the main Camp. Three Quests—a Flourish Quest, an Action Quest, and a Creation Quest—will be available at a time, and are represented by 3 empty stars on the left side of the screen. Most of them may be skipped for a certain amount of Dragon Gems (please see the table below for cost) or by watching an advertisement (a Beta feature introduced in Version 7.2.0 (21st of October 2021), limited to 4 ads per 24 hours). Tapping the empty star will display a description of the Quest and its completion requirements.
There are 162 Creation Quests, 124 Action Quests and 104 Flourish Quests, for a total of 390 Camp Quests.
Completing or skipping a Quest will reward the player with a Goal Star (with a small chance to receive a Dragon Star instead), and fill in the corresponding star on the left side of the screen. Leaving the Camp and re-entering will wipe away any completed/skipped Quests and replace them with the next Quest in the corresponding category. Later versions implement a "Next Quest" button when tapping the filled star of a completed/skipped Quest. Once the last Quest of a section has been completed, the star for that section will disappear.
Creation Quests deal with merging objects, owning a set number of items, and creating new items.
Action Quests deal with tapping items, opening Treasure Chests, and activating Life Orbs.
Flourish Quests deal with healing land, opening Dragon Egg Chests and Loot Orbs, building buildings, and letting various Seeds grow.
Starting with Version 8.6.0 (2nd of June 2022), some players have new Star Quests system instead of the Camp Quests.
List of Camp Quests
[
]
Creation Quests (162)
[
]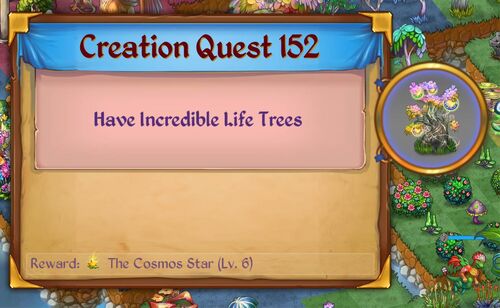 Action Quests (124)
[
]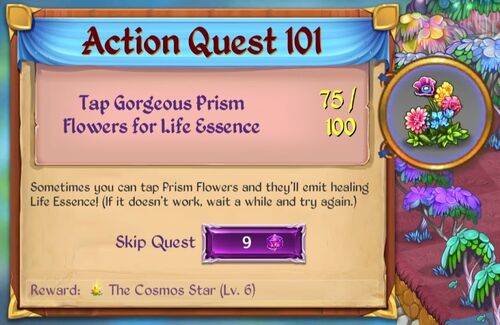 Flourish Quests (104)
[
]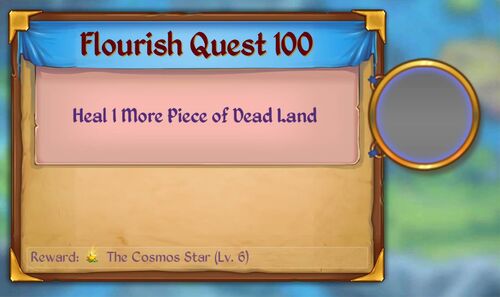 Important Notes and Tricks
[
]