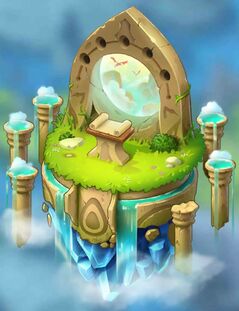 Summary
[
]
Dragon Missions are a feature in Merge Dragons!, first released as Beta in Version 7.3.0 (11th of November 2021). With Version 8.3.0 (29th of March 2022) it was made available to everyone.
New players can see the floating island of the Dragon Missions in the lower right part of the Evil Fog clouds in the Camp. The feature requires at least 25 Dragon Power to be unlocked. After unlocking its island moves to the middle right part of the Camp, between the Dragon Homes Island and the Arcadia island (if the player has access to these 2 Beta features).
The player can earn various rewards for their Camp by completing and mastering Dragon Missions, including:
How Missions Work
[
]
Dragon Missions can be accessed by the player by clicking on the portal to the right of their Camp. Upon entering the Missions menu, they will be shown a map containing a list of all places that can be explored. Each place has their own unique set of Missions.
Originally, there were 8 worlds — Aracon, Feroxia, Glimrock, Frostia, Trinith, Renarus, Wintyn and Oria. At the start, the player is only able to access the Aracon Missions until they gather enough Scrolls to unlock the following worlds one by one.
12 new worlds were added in Version 8.5.0 (13th of May 2022) — Mysris, Flumia, Draelar, Swiloor, Elora, Virfi, Vaegon, Glacia, Sulfu, Olympeka, Engar and Castellia.
Playing a Mission
[
]
All Missions require a couple of prerequisites in order to be played. First, the player must have a certain amount of Energy determined by the Mission. Similarly to Chalices, Energy refills over time (1 Energy per 30 minutes), or can be replenished with Dragon Gems. At first, the game gifts you 13 Energy, but the usual limit of the Energy bar is 9. In Camp you can see how many Energy you currently have in an icon in the upper left corner of your game screen.
Once the player enters a Mission, they are met with a screen depicting a series of pedestals. These pedestals represent the number of Dragons needed to go on the particular Mission, as well as any elemental requirements needed for that Mission. Usually, if a pedestal does not list any element(s), a level 3 or higher Dragon is required to be added to that section. Pedestals listing a certain element, however, can have any level Dragon added to them as long as they have the same element as what's listed.
You can either select the "autofill" option to let the game automatically choose the Dragons who have the most Dragon Power and are best suited for the Mission. Or add each Dragon manually by tapping the green plus signs. Doing so will bring up the menu with 2 options: choose your own Dragons from the list of up to 25, or borrow some Dragons from the game with Gems.
As Dragons are added to the pedestals, the rewards gauge at the top of the screen will begin to fill up corresponding to the amount of Dragon Power used. This gauge has five circles along it; every circle the gauge fills adds one reward choice at the end of the Mission. You need to fill at least one circle to be able to start the Mission, or the gauge will turn red and the "Not Enough Power" message will be displayed above it. If enough Dragon Power is used and the bar reaches 100% (filling all 5 circles is not considered the 100%), it will "supercharge" the current Mission, which takes 20% off of the time needed to complete the Mission on top of the five reward choices.
If you're still lacking Dragon Power you can add Boosters by tapping three brown pluses below the pedestals. Game offers Mini Boosters for 20 Dragon Gems (the first one is free), Mega Boosters for 35 Gems and Monster Boosters for 50 Gems.
You can have a maximum of three Missions running at the same time.
Dragons away on Missions
[
]
While the Mission is active the Dragons you sent away will be unavailable for merging. In Dragon Book they will have a little alarm clock icon to signify that. When you end the Mission and claim its loot, it will be possible to merge them again.
It may take a while for a Mission to finish, so make sure you choose your Dragons wisely.
Rewards
[
]
Upon completing a Mission, the player is granted the opportunity to choose one to five rewards out of a set of seven Chests, with the number of picks resulting from how much Dragon Power the player used in that Mission. The counter for free Chests is depicted below the rewards gauge. The rewards screen also shows the player's Dragons, which attack the chosen Chest(s), and the number of Common/Uncommon/Rare prizes (represented by white/blue/gold colors) in that particular set. Each time you open a Chest the rewards counter decreases by one. Once all free Chests are opened, the remaining ones can be obtained for 10 Dragon Gems each.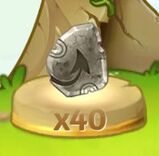 Each Mission Chest can hold 1-6 common items (such as Life Flowers, Coins etc.), a Standard Dragon Egg or Rune fragments. Although not listed in the rewards display, when Dragon Missions prizes arrive in the Camp they may contain Dragon Chests as well, including the rare Colored Dragon Chests which give Prism Dragon Eggs.
In the table below you can see the items you may receive from the Missions, listed with their possible rarity in the Mission loot.
In order to obtain the Grand Prize shown by the Mission, the player must acquire a certain number of Scrolls, which varies between Missions. Scrolls are obtained by collecting a certain number of Runes (1st requires 80 Runes, 2nd - 120, 3rd - 160, 4th - 200, and 5th - 240 Runes), which are occasionally found in Mission reward Chests. As soon as the required number of Scrolls is reached, the player is given the Grand Prize, which is sent to the Camp, and the Mission's status changes to "mastered". Now all Runes you find will charge a single bar, which you need to fill (requires 350 Runes) to earn a different prize, often of a lower quality compared to the Grand Prize.
Dragon Elements
[
]
All Dragons have an element, which is noted with unique symbol in the Dragon Book once they are unlocked:
| Elements | Dragons |
| --- | --- |
| 13 Fire Element Dragons | Ash Bunny, Basket, Crimson, Cupid, Flame, Life, Owl Griffons, Passion, Sensei, Seth, Sharp, Sun, Zen |
| 14 Plant Element Dragons | Bird, Butterfly, Chameleon, Earth, Fall, Fay, Grass, Maple Moths, Morty, Mycelial, Nature, Royal Guardian, Sylvan, Turtle |
| 16 Earth Element Dragons | Ash Bunny, Bird, Cat, Deer, Diva, Earth, Flame, Ghastly, Mycelial, Rock, Spotted, Sylvan, Viking, Wild Gryphons, Wise, Wood |
| 14 Water Element Dragons | Aqua, Bunny, Green, Midas Ducks, Morpho, Pearl, Rocs, Royal Guardian, Sea, Viking, Water, Winter, Wood, Zen |
| 11 Toxic Element Dragons | Den, Doll, Ghastly, Gluttonous, Hera, Maple Moths, Rick, Shiba, Stadium, Toadstool, Tribal |
| 12 Crystal Element Dragons | Cool, Cosmic, Crystal, Dog, Forbidden, Friend, Golem, Onyx, Prism, Star, Winter, Zeus |
| 9 Light Element Dragons | Air, Chrono, Fall, Honey, Jester, Life, Samba, Stadium, Sun |
| 10 Cosmic Element Dragons | Anubis, Cosmic, Cosmos, Forbidden, Martian, Moon, Prism, Seth, Specter, Star |
| 11 Fairy Element Dragons | Basket, Bunny, Candy, Chocolate, Dessert, Fairy, Gargoyle, Gluttonous, Onesie, Pegasus, Wild Gryphons |
Of all Dragons, 26 have two different elements.
Most Missions require at least one Dragon of specific element in order to be played, while some even require for all five Dragons to have different elements.
Mystery Eggs
[
]
Rewards for some Missions are Mystery Eggs of various elements. The exact breed of Dragon is revealed only after earning the reward. While there are around ten Dragon breeds for each element, it seems like only a few of them could be acquired as a Mystery Egg.
Mystery Crystal Egg, Mystery Cosmic Egg and Mystery Fairy Egg could provide Dragons that are exclusive to the Dragon Missions — Crystal Dragons, Onyx Dragons, Specter Dragons and Candy Dragons. Mystery Crystal Egg is the most worthwhile of them, since it can provide two types (Crystal and Onyx).
List of Missions
[
]
At first the Dragon Missions map had 8 worlds with 34 missions in total. In Version 8.5.0 (May 2022) 12 new worlds were added and the rewards of some previous Missions were changed.
Aracon
[
]
The Aracon world is unlocked from the beginning.
Feroxia
[
]
The Feroxia world requires 3 Scrolls to be unlocked.
Glimrock
[
]
After you unlock the Feroxia, the Glimrock world requires 5 Scrolls to be unlocked (8 Scrolls total).
Frostia
[
]
After you unlock the Glimrock, the Frostia world requires 9 Scrolls to be unlocked (17 Scrolls total).
Trinith
[
]
After you unlock the Frostia, the Trinith world requires 14 Scrolls to be unlocked (31 Scrolls total).
Renarus
[
]
After you unlock the Trinith, the Renarus world requires 15 Scrolls to be unlocked (46 Scrolls total).
Wintyn
[
]
After you unlock the Renarus, the Wintyn world requires 18 Scrolls to be unlocked (64 Scrolls total).
Oria
[
]
After you unlock the Wintyn, the Oria world requires 19 Scrolls to be unlocked (83 Scrolls total).
Mysris
[
]
After you unlock the Oria, the Mysris world requires 21 Scrolls to be unlocked (104 Scrolls total).
Flumia
[
]
After you unlock the Mysris, the Flumia world requires 21 Scrolls to be unlocked (125 Scrolls total).
Draelar
[
]
Swiloor
[
]
Elora
[
]
Virfi
[
]
Vaegon
[
]
Glacia
[
]
Sulfu
[
]
Olympeka
[
]
Engar
[
]
Castellia
[
]
Gallery
[
]