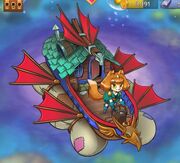 Kala, the Treasure Hunter, or Kala for short, is an NPC, an adventurer and a treasure hunter that came from a far land. She can be found riding her ship, floating over a dark blue, swirling vortex (possibly a wormhole) found at the bottom-left of the Camp. Every day, Kala will have a new quest for a limited time for the player to fulfill. The requirements vary and will grant the player a Kala's Rucksack with the promised loot. There is a changing chance (5% and up) of also getting a Kala's Bonus Rucksack. When the said quest has been completed, Kala disappears until the next day. You can also buy things from her in the Buy Menu.
Kala was introduced in Version 2.0.0.
When the player taps on Kala for a trade, a box will appear, showing the details of the trade. She will ask for one specific type of object in exchange for another type, the latter of which is often Eggs. On the right side of the interface is the item she is currently offering in exchange for the object shown on the left.
Once the player leaves this box, a new smaller box will appear over Kala, which shows the number of objects left that she is seeking. The current number of items available in the player's Camp (up to the amount she is requesting) will be shown in a red circle at the top left corner of the "Give Now!" button. Note that this count includes the objects that Dragons may be currently holding (after harvesting, which they are currently travelling to an empty tile to drop off), and excludes objects that are currently contained in Loot Orbs.
Refer to the Buy Menu.
Low-level objects have a higher chance of being asked for in trades. Dragon Eggs may be asked for as well, but rarely. Certain trades have a 100% bonus loot chance. It is extremely rare for her to request items that you have yet to discover.
You can give the quest items to her even if they are currently being held (after being harvested) by Dragons.
While Kala's quest can time out, it can still be completed as long as the player remains within Camp. The moment the Camp is left or the game is closed down, Kala will respawn with a new quest.
Community content is available under
CC-BY-SA
unless otherwise noted.