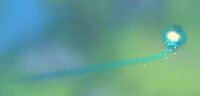 Summary
[
]
Magic Merchant is one of the flying shops you can see from time to time in your Camp. It was Beta tested starting from the Version 7.1.0 (28th of September 2021) and was released for everyone in Version 8.3.0 (29th of March 2022).
The Merchant shop looks like a blue glowing ball of light, which slowly drifts from left to right through your Camp.
Its arrival often coincides with other drifting shop - the Parachute.
Magic Merchant Offers
[
]
Tapping the Magic Merchant will bring up an offer of three items you can purchase with Dragon Gems. Rarely, one of the items is offered for free.
All items in the Magic Merchant cost the same as in the Parachute shop. Refer to the Merge Chain of the particular item to view the precise prices.
It's extremely likely that Magic Merchant doesn't feature any objects the player is yet to discover. It's also very likely that, similar to the Parachute shop, it doesn't offer any items that are the last in their Merge Chain and can't be merged.